The Dan Triangle Karate Club is situated on the East Rand and operates from various Dojos found in Benoni, Brakpan and Dalpark.
The Club fully endorses the five Guiding Principles (Maxims) by which the International Martial Arts bodies subscribe to:
Character

Sincerity

Effort

Etiquette

Self Control
We are affiliated to BKI – KWF, Eastern Gauteng and Karate South Africa (KASA)
History:
The Club is family owned and was established in 1983 by Sensei Chris Anthony, who is very well known around the East Rand and currently holds a 5th Dan in karate. He also has vast experience in Ju-jitsu, Judo and Nunchaku Sticks.
Sensei Anthony is assisted by his son, Christopher Anthony (3rd Dan), his wife Wilma Anthony (3rd Dan) and his daughter Sharike Anthony (2st Dan).
Black Belts (Family Club)
Chris Anthony 6th Dan
Roaul Hurwitz 3rd Dan
Wilma Anthony 3rd Dan
Christopher Anthony 3rd Dan
Dudley van Niekerk 3rd Dan
Colette Le Roux 2nd Dan
Laura Beamish 2nd Dan
Sharike Anthony 2nd Dan
Amy Le Roux 1st Dan
Nicholas De Vaux 1st Dan
Zelda De Beer 1st Dan
Bruce Mosia 1st Dan
Megan Duval 1st Dan
Achievements:
The Club has achieved much success since its establishment. Members have represented Ekurhuleni and Gauteng at many tournaments and many of our students represent KWF South Africa and Karate South Africa at national and international level.
The Club maintains very high standards due to the extreme passion and dedication of Sensei Chris Anthony. As a result we consistently produce high quality black belt students.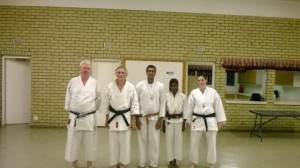 Students are rewarded for their hard work at our annual prize-giving ceremony.